Features - 29/1/8
British ski marathon-ers conquer the elements
NEW - Matt Walker YouTube Vasaloppet account - Graham Bell Actic Circle Race
The Engadin ski marathon in Switzerland and the Vasaloppet ski marathon in Sweden took place earlier this month, with plenty of British rollerskiers among the 10,000+ participants in each race.
Wild and difficult conditions faced competitors in the 84th Vasaloppet from Salen to Mora in Sweden. Taking part in the main race were 20+ skiers from GB, including London rollerskiers Ulf Rehnstrom, Matt Walker and Torsten Arndt. Mary Wray and William Bruce took part in the 90k 'Open Track' race, which allows racers to be timed doing the course during the week before the main race. For many competitors, this year's race will be one to forget. With temperatures around zero, waxing was difficult, creating a very slow-moving queue of people setting off - there was a huge number of people forced to pull out at the first checkpoint for failing to meet the cut-off time.
I had the following reports from skiers -
Matthew Walker, first time XC ski racer, 10.59 - "Thought I'd let you know I made it to the finish of Vasaloppet 08 as the 8th fastest Brit. Conditions were terrible and it took one and a half hours to get 2k at the start but I made it." Matt, who trained on rollerskis in Hyde Park in 2007, created the following YouTube account.
Torsten Arndt, 7.07 - "just came back from it...everything hurts. Went well for my underpreparedness (trained only once in all of Feb due to stress at work and cold). Did seven hours and seven minutes and placed 4100th, below my expectations but at least endurance was not the problem, just speed. I must have spent about 30 minutes in total at the supply stations, could easily catch another 30 min through better training, and then the conditions of the first and last 30k were really bad: first wet new snow and headwind, later heavy brown slush. But that was made up for by me having received world class material from an elite skier who looked after me during the race and his brother ... good team work. Middle section fantastic, icy trail though destroyed tracks ... we were flying then. Therefore, I think 5:59 is doable next year..."
Ulf Rehnstrom - DNF - "Unfortunately I was stopped by the rope already after 24km in Mangsbodarna. It was the worst condition thinkable for a skier like me not having a good technique for skiing without tracks. The temperature was around zero with light snow resulting in no tracks, a bumpy icy surface, and no grip. Many people had problems getting up the icy 4km hill in the beginning which resulted in an almost complete stand still with people falling and sliding backwards. Some people took off their skis and walked up the hill even though that is not permitted. After 1:44 I reached the 2km sign and started to realize it wouldn't be possible to make the maximum time. I did make the time in Smagan with a few minutes on my side but was later stopped in Mangsbodarna. It was frustrating having to stop skiing with still a lot of unused energy in the body. I had been eating pasta for lunch and dinner for three days……
Anyway, never give up, I have a plan for 2009:
- Participate in some smaller races and try to get seeded for start group nine, thereby leaving 4000 skiers in start group ten behind me in the start and up the initial hills.
- Practice lots of double pooling on roller skis. Vasaloppet is all about double pooling unless you are lucky with the weather conditions.
- Practice more on snow including skiing on bad or no tracks."
Mary Wray, 8.44, Open Track - "I had a great day on Monday & did the 90k in 8:44 which was even better than the 9hrs that I thought would be pretty good for me. So I've now done 10 world loppets - time to start again & get some better times!"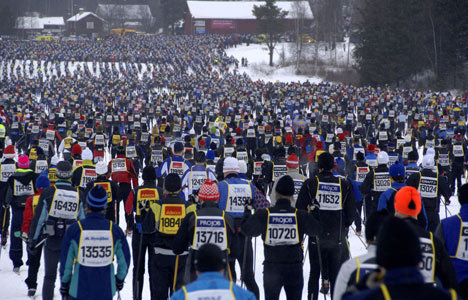 The Engadin Ski Marathon turned out to be a much more civilised affair this year. Despite a thaw earlier in the week, organisers worked hard to present racers with near perfect snow conditions on the day, and a slight tailwind helped racers to record times.
I was there with a group of 8 other Brits, and we shared a dorm room at the Sporthotel Pontresina, which lies halfway along the course. Two of them, Alan Hutchinson and Steve Crutchley, had done a 4-week rollerski course in Hyde Park, and it was great to see them take their first steps on snow on the Thursday before the race. Despite the usual initial wobbles, they soon transferred the skating technique to snow, and both had a good race. Alan finished in 3hrs 14min and Steve in 2hrs 52min.
Ian Macleod, who had been rollerskiing in Richmond Park, took up the challenge of doing the race in a kilt - in aid of UNICEF. You can retrospectively sponsor him by clicking here. His time of 4.03.15 was pretty good going given the extra icy breezes he had to contend with. Give me lycra any time.
Kwasi Debrah and Michele Marshall, who had been training at Dorney Lake, did the race in 4.01.53 and 4.02.16 respectively. Again, very good times for first time racers. Gemma Gaskell, a regular at the rollerski club sessions in Hyde Park, recorded a sub 4-hr time despite only turning up in Switzerland the day before the race, finishing her first ski race in 3.57.53.
Other London rollerskiers included Martin Arnold (2.36.55), Guerman Mikhailov (2.26.38), Agnieszka Krukowska (3.05.20 - 21k), Pat Burtis (2.11.56), Alex Marfin (2.32.31), Jonathan Calascione (2.14.09), Charles Pither (4.21.14) and me (2.10.47).
The 72 year old British architect, Lord Norman Foster, a veteran of several races, completed the course in 3.27.50.
British numbers were down slightly on previous years. Jon Samson's Freshfields team didn't appear this year, nor did the Waymark team (the Waymark Engadin trip being one of the casualties of the Waymark office's closure - the Engadin race trip wasn't taken on by Exodus).
I suffered from a bad start and lost a bit of time in overtaking, but had an enjoyable second half after the usual queuing between St Moritz and Pontresina. Compared to previous years my position was disappointing, but I'd picked up a pretty nasty bug a couple of days before and probably shouldn't have raced, so not too bad a performance considering.
By all accounts from the others though, it was a great weekend and an excellent challenge for duly overcome.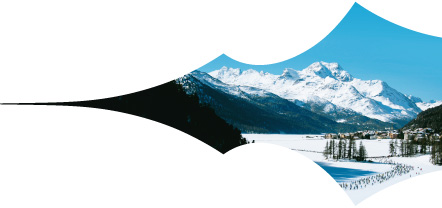 Ski Sunday presenter Graham Bell did the mighty 160km Arctic Circle Race in Greenland 4-6 April 2008. Despite having only a fortnight or so to take up rollerskiing and cross-country skiing, he completed the 3 day event in 17hr 24min 26 secs, finishing 27th out of 49 men. More ski marathons...