News - 1/1/17
Highlights of rollerskiing in 2016
With 2017 beginning, here's what has been going on in the last 12 months. We welcomed many beginners to the sport of roller skiing and cross-country skiing and led the 'birth' of laser-rollerski-biathlon in England. We had some excellent races both on tarmac and snow, and saw the GB cross-country skiers scale new heights. Roller skiing also cropped up in many odd places, including on the road to Rio and a controversial television advert.
Who knows what will happen in 2017, but it's sure to be another interesting year. We hope you can be part of it -
JANUARY
Beginners out in force for New Year courses
Photographer Nick Moore captures beginners at Dorney Lake -
FEBRUARY
Armed Forces Para Snowsport team raise funds on rollerskis -

Roller skiing features in Sport Relief's 100 Sports in 100 Days -
MARCH
Many rollerski-prepared skiers take part in the Engadin Skimarathon - xxx British finishers
GB skier Andrew Musgrave finishes 10th in the Norwegian Birkebeiner ski race
British cross-country ski team concludes most successful ever season -
APRIL
Rollerski laser biathlon courses started, at Redbridge Cycle Circuit
IGO quadrathlon adventure race begins in Norway, with skiers prepared on roller skis in Hyde Park -

200k Red Bull Nordenskiol Race takes place for the first time in 132 years
Top Trumps introduces card game featuring roller skiing - shop
MAY
Rio Olympic flame carried on roller skis -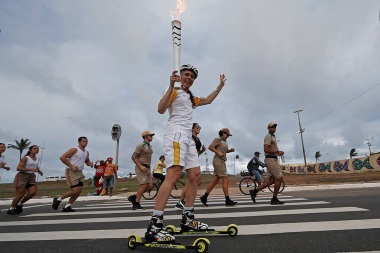 Salomon introduces new Prolink bindings system, compatible with NNN - details
JUNE
British Rollerski Championships take place in Aviemore, Scotland. Our club skier Amanda Richardson beats 12 time GB Series Champion Fiona Crossley for the first time. Duncan Gibb and Samanatha Grist are British Rollerski Champions, 2016. Results
Jordan Andrews appears on Love Talk's 'Trip for Two' show -
JULY
Special ladies' training session in Richmond Park -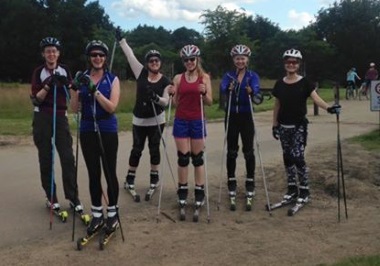 Our rollerski kit completely replaced, Prolink boots and bindings replace Pilot fleet
Cairngorm biathlete and cross-country skier Calum Irvine wins at Henley Royal Regatta, representing Edinburgh Uni, their first ever win at Henley -

London 1-Hour Rollerski Race takes place Results
Hyde Park juniors Patrick, Joseph and Tristan attend GB training camp in Scotland
Lysebotn Opp 2016 Blink video (headcam, features crash) -
AUGUST
New instructor Steph Cook joins coaching team, we bid fond farewell to coach Devon
SEPTEMBER
Hyde Park club celebrates 10 years of rollerski training in Hyde Park -
Dorney Lake biathlon course takes place, with beginners and advanced groups -
57 skiers take part in the London 10k Rollerski Time Trial in West London. Results
OCTOBER
London 10k Classic Rollerski race took place at the Olympic Velopark in East London. Rollerski manufacturer Swenor provided matched skis, for one of the best rollerski races ever to be held in London - Pictures left, Report Results
The 2016 GB Rollerski Race Series finishes, with club coaches Jordan Andrews and Stephanie Cook crowned Mens and Ladies series champions.
Series results - Mens | Ladies | Juniors
Autumn rollerski pics -
GB's first ever rollerski + laser biathlon race takes place in Castle Combe - pics
Regular Hyde Park skier Carsten Uth appears roller skiing in a controversial advertisment for McDonalds -

Hyde Park skier Anssi Suominen wins the London 4-Hour race, Jordan finishes 2nd Results
NOVEMBER
Rollerskiing features in Snowsport England video, rounding up Snowsport Month
GB's Andrew Musgrave finishes 10th in World Cup 15k Classic race in Ruka, Finland
Beginner courses and Tuesay night training gets 'dark' as clocks go back
DECEMBER
IBU Junior Biathlon World Cup introduced - Thames Valley roller skier Holly Rees Lay and fellow civilan skier Sofie Hopkins take part, finishing 60th and 70th in inaugural race - results
Crowdfunder for Miniskiers - roller skiing to be brought to 3x primary schools in 2017
Tonga Taekwondo athlete switches to cross-country skiing - news

Good roller skiing & skiing in 2017!