Salomon Prolink: NNN-compatible boots and bindings from Salomon
Salomon has introduced its new 'Prolink' system for cross-country ski boots and bindings. This system allows Salomon cross-country ski boots to be used with NNN bindings for the first time. Salomon boots will be available with either Prolink or Pilot soles (NB they are not inter-compatible).
We are stocking both Prolink and Pilot Salomon boots, see - boots selection and rollerski packages. (Currently we have Salomon S-Lab Skate Pro, Pro Combi, RS Carbon Skate and Equipe Combi Prolink boots in stock).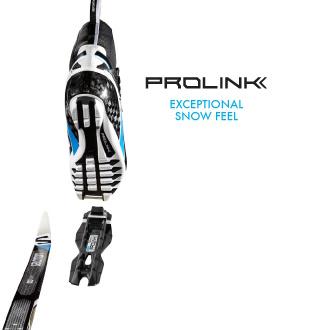 What is it?
Prolink is a system of bindings that works in the same as Rottefella's NNN system. The Prolink binding has two ridges rather than the Pilot binding's single ridge, and the boots have two grooves rather than one. Salomon boots are now offered with a choice of either Prolink or Pilot soles. Boots with Prolink soles will fit Prolink and NNN bindings (but not Pilot / Profil / Propulse bindings).
Why have they introduced it?
By offering boots with the Prolink soles, Salomon can now sell their boots to anyone with skis or roller skis fitted with NNN bindings. This allows Salomon to massively increase it addressable market. And they can more easily sell their skis to those with other brands of NNN boots.
Can I use Prolink boots with Pilot bindings?
No. Prolink boots will fit only Prolink or NNN bindings. Similarly, Pilot boots will only fit Pilot / Profil / Propulse bindings and not Prolink or NNN bindings.
Which system is better?
Both systems have been around for many years (Pilot with Salomon; NNN with Rottefella bindings and boots from Alpina, Madshus, Fischer and Rossignol) and in our opinion neither has an overall advantage in terms of usability. If you are starting out, it would be an advantage to go for Prolink bindings and boots, as in future you will be able to use boots from many other brands (eg Alpina Summer rollerski boots). If you already have Pilot boots and bindings on all your skis / rollerskis, you might want to continue using the Pilot system - Salomon intends to keep producing Pilot boots for the foreseeable future - or you can change to the new system.
I have Pilot bindings and want to change to Prolink - is this easy?
Prolink bindings have been designed to fit in the same holes as Pilot bindings, so mostly it is easy to change bindings over. However, the larger Prolink bindings are a bit longer than the Pilot / Propulse bindgs, so in some cases, on rollerskis, the bindings will have to be mounted slightly further forward. Although they have recently introduced a slightly shorter Prolink plate for classic and skating rollerskis, for shoes up to size 8.5. For skis there will never be an issue. If you order new boots and bindings from us, if you want we will change over your bindings for free - you just need to send us your skis / rollerskis.
Is Salomon abandoning the Pilot system?
No. Salomon boots will be offered with a choice of either Pilot or Prolink soles for the foreseeable future.
What kind of Prolink bindings are available?
Prolink bindings are available with a choice of 'Access', 'Pro' and 'Carbon', and 'Junior'. We offer the 'Pro' binding as standard with rollerskis and skis, and this is a great quality and hard wearing binding. You can upgrade to 'Carbon' bindings. The Carbon comes in an option of SK / CL and SK2 / CL2 - the former have a narrower footplate, and the latter a wider footplate.
Are Prolink bindings better than Rottefella Xcelerator bindings?
When skis or rollerskis are fitted with the NIS system, it makes sense to use the Rottefella Xcelerator NIS binding. Whenever skis or rollerskis do not have a NIS system, we believe the Prolink system is better. This is because skis / rollerskis without an integrated NIS system require a NIS 'mounting plate' to be fitted (for Xcelerator bindings), and the bindings fit onto this. This adds weight and means the binding sits higher on the ski / rollerski. In terms of weight, an Xcelerator binding + mounting plate is about 50% heavier and requires twice as many screws (10, rather than 5) compared with a Salomon Prolink Carbon binding.
Another advantage of the Prolink binding is that the one binding will fit boots of different sizes - which is incredibly useful if your skis or rollerskis are being used by different people. The Rottefella bindings are designed to be used by only a small range of shoe sizes and cannot be adjusted on roller skis.
If you need more information, please email us - info@rollerski.co.uk or call +44 020 8348 2540.
Shop -
Bindings
Boots
Packages - roller skis
Packages - cross-country skis
Prolink Pro Combi boots -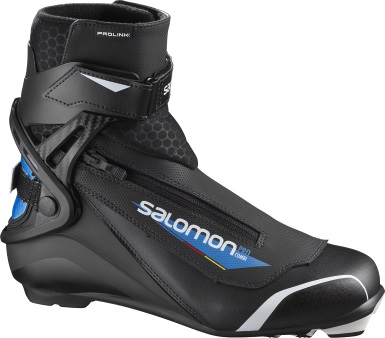 Prolink Race Skate bindings -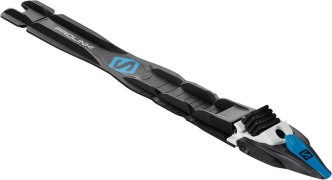 For roller skiing, we fit these bindings with a special red rubber 'flexor', which provides greater resistance than the standard ski flexor, to compensate for the weight of the rear wheel.
Prolink Shift Pro Classic binding -

The 'Shift' system is being fitted to all newly introduced Salomon classic skis going forward, and allows you to move the binding forward for less grip and more glide, and backwards for more grip and less glide.
Prolink display (from original launch) -