Daily Telegraph Magazine, 24.3.2007
This article on rollerskiing appeared in the Daily Telegraph Saturday Magazine's 'Health & Beauty' section, with commentary based on a longer interview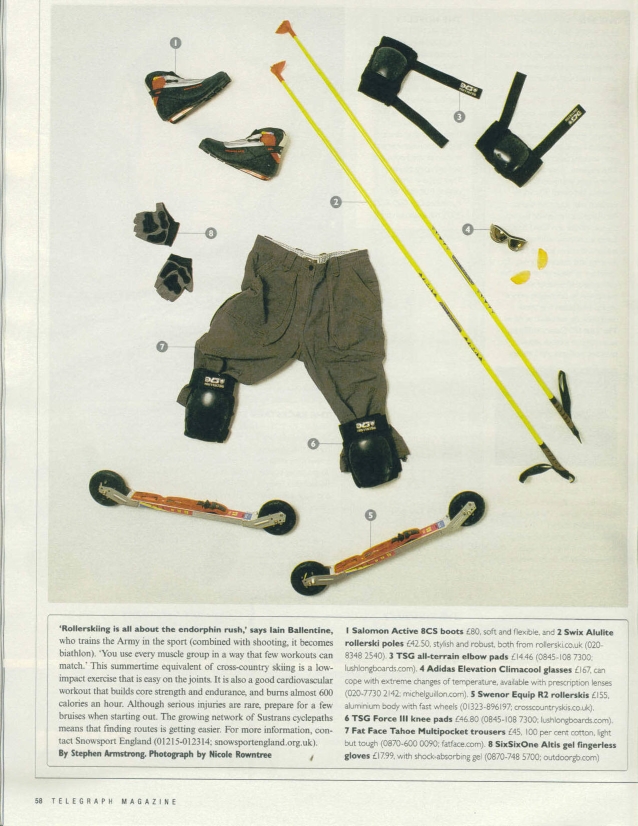 To buy - Swix Alulite Poles, Salomon Active 8CS boots and Swenor rollerskis
Interview with IB -
Tell me about rollerskiing - what's the appeal?
Rollerskiing is all about the endorphin rush. When you get going you use all your muscle groups and few workouts can match it. Rollerskis are designed to be as close as possible to the feeling of cross-country skiing on snow.
Although cross-country skiing is often seen just as 'walking on snow', it is actually one of the most aerobically demanding sports you can do. Cross-country skiing is used as cross-training for the GB rowing and canoeing teams, and biathlon - cross-country skiing and shooting - is the British Army's foremost adventure training sport.
But you don't need to be super fit to get rollerskiing. Reasonable fitness and balance will help, and you will soon find yourself using your leg, arm and core muscles, as well as plenty others you didn't know existed.
One of the beauties of rollerskiing is that it's low impact, with less stress on your joints than, say, running. You can go out for a couple of hours and feel that your body has been built up rather than worn down. The growing network of well surfaced Sustrans cycle routes (such as the Bath-Bristol trail which follows an old railway line) means that finding a good ski route is not difficult. Parks, cycle circuits, motor racing circuits and quiet roads offer alternatives.

What's the best piece of advice you can give a novice?
Keep at it and set yourself a goal. To begin with it can feel a bit wobbly and it takes time to find your balance and get the right muscles in place - but once you have these you start to feel the buzz. A cross-country ski holiday, ski marathon, rollerski tour or rollerski race are good to aim for, and good fun.
What are the health benefits?
Much improved general fitness and strength. Because it requires good balance it's great for 'core strength' which, combined with its aerobic demands, makes it great cross-training for any sport which requires strength and endurance.
Are there any warnings? (e.g. wannabe climbers who've had a shoulder injury advised to check with GP.)
Not really, although if you have any health problems or injury concerns it would be best to check with your GP. Generally good fitness and balance is helpful. You should be prepared for a few bruises, but serious injuries are not common.
What are the essential pieces of kit required?
Rollerskis, boots and poles. The boots are cross-country ski boots, and can be used with cross-country skis on snow, and the poles are cross-country ski poles but with sharpened points which don't get blunt poling on tarmac.
Kneepads are a must for beginners, and fairly light gloves should always be used.
Are their any eiquette/behaviour tips?
Not really - rollerskiers tend to be fairly well behaved. Rollerskiing is about the workout, not doing tricks - but you attact a good deal of attention, so I'd say be polite to people who ask you what you're doing (and there will be loads of them).
On a serious note, it's best to avoid poling if you're on a track here there are horses as they can be spooked. Also, watch where you wave your poles as they have sharp points!
Who can I call for more information (local events, clubs, training etc)
www.rollerski.co.uk - runs rollerski courses and events in England and sells equipment
www.ssenordic.org.uk - Snowsport England nordic website has links to all the nordic ski clubs in England, and a calendar of club events and races
www.huntly.net/hnoc/ - Huntly Nordic centre offers rollerskiing and cross-country skiing in Aberdeenshire, Scotland
www.cbnsc.co.uk - Cairngorm Biathlon & Nordic Ski Club is based near Aviemore, Scotland