Profile: Iain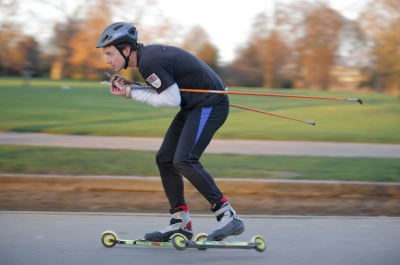 Name: Iain Ballentine
Qualifications: Snowsport England qualified rollerski instructor
Experience: Skiing and rollerskiing since the age of 13. Started rollerskiing on private roads in rural Northern Ireland, where apparently there was nothing else to do! Competed in the British Cross-Country ski championships 2002, 2003, 2004, 2006 - fastest non-military skier in 15k classic in 2002. Competed in Engadin ski marathon in 2004, 2005 and 2006. Director of The Rollerski Co and London's most enthusiastic rollerskier and instructor!
Other interests: Used to row and scull, enjoys mountain biking, sailing, windsurfing, biathlon (skiing and shooting), planting trees in N. Ireland.
Ambitions: to get people rollerskiing, whatever their motivation, and turn the UK into a nation of great cross-country skiers! Irradicate obesity through rollerskiing.
What does he do: Rollerski & cross-country ski instruction and coaching.
Contact Iain: iain@rollerski.co.uk or call 020 3026 5195.
2018 results
Norwegian Birkebeiner Ski Marathon 54k, 4 hours 26 minutes and 54 seconds!
2015 results
British Senior Rollerski Champion - results
2013 results
The trouble with running a growing ski training business is that everyone wants to rollerski in the run-up to, or during the ski season! Very difficult to get away. Still, I finally made it back to the Engadin Skimarathon in 2013, finishing in 2hrs 3mins 37seconds, alongside 152 other British finishers, including Alan.
2010 results
Much abbreviated ski season, due to rollerski commitments. Only 2 weeks on snow. The highlight - without doubt - was finishing 2nd in the GB Championships 4x10k cross-country race with my cousin's cousin, Paul Gorbold. Also took part in various biathlon races, including the 20k individual which Paul finished second in, and the 10k sprint. Great fun.
2009 results
Budorrennet ski marathon, Hamar, Norway - 3.1.9, 45km classic ski marathon in Norway. 2hr 54mins 2secs. My first classic ski marathon. Had fairly slow skis as I'd waxed too cold, but was flying at the top of the course, where it was much colder! Good way to get classic legs back. Did some classic sprints with the GB juniors the next morning.
Slavic Cup, Liberec, Czech Republic - 18.1.9, 10km classic ski race, on the course of the World Championships. Results. Representing Ireland at the FIS Developing Nations training camp. Very severe course, but a great experience.
2008 results
Engadin ski marathon - 12.3.8, 42km ski race in Switzerland. 2hr 10min 47sec, 1,708th / c10,000 Bad start, so got a bit stuck in traffic between St Moritz and Pontresina, but picked up speed and places towards the end. Great skis, thanks to Holmenkollen waxing men in St Moritz. Picked up a bug due probably to dodgy tap water at the Sporthotel Pontresina. Great track conditions and a really good day. Fastest Brit. Results
Dolomitenlauf ski marathon - 20.1.8, 42km ski race in Obertilliach, Austria. 269th / 487. All was well except I lost a pole tip in the first 10k and so lost lots of power. Should probably have used stiffer skiers than I did. Happy enough given these problems (and the fact it was my second day on snow in the season). Came home feeling 100% fitter and more energised after long weekend. Results
2007 results
Spartan Hike 15k classic - 19.1.7, 3 days on snow and then a race! Great fun skiing through the field from 206th starting position, great weather and friendly crowd of racers and officials. Finished 34/211, which was fine being my 2nd time on classic skis all year!
2006 season & results
Waymark / Rollerski Co holiday - 28.12.5 to 4.1.6
First week on snow of the season, teaching our rollerskiers to ski on snow. Very rewarding to see such an easy progression from tarmac to loipe. A good week of teaching, touring, waxing and fun racing.
Spartan Hike, Serre Chevalier, France - 7.1.6 to 24.1.6
Here I was coaching the Exeter Uni OTC's cross-country ski and biathlon team. A great bunch of guys and girls. Only 2 had skied before and we hadn't much time on snow. Still, we managed to get 3 TA Novice gold medals - mens 10k biathlon, mens 15k and 5k classic and womens novice 5k classic - and were fastest OTC in the Military Patrol Race (a ski race with a few military skills thrown in).
The organisers allowed me to compete hors concors (as a non-military skier) so it was good practice for Ruhpolding. It struck me as an excellent event - extremely well run, in fantastic scenery. Oddly my best result was in the 10k biathlon despite doing 6 penalty loops! Classic was a mess due to waxing.
10k biathlon - 22nd/235
15k classic - 39th/250
4 x 10k cross-country (skating 4th leg) - 12th in leg
British Champs, Ruhpolding, Germany - 24.1.6 to 31.1.6
Back to Ruhpolding after a couple of years break. The civilian contingent was stronger than ever. I had a good race in the 15k classic - felt stong. OK in the pursuit race, but should have put in a little skating practice before the race - I'd been focusing on classic after Spartan Hike. Was in 5th position after the classic leg, but fell to 12th at the finish. Tired by the time of the 4x10k team event, so didn't perform strongly here. Should have rested the day before but OK result.
15k classic - 22nd/154
10k classic / skate pursuit - 12th/37
4 x 10k team event - 7th in leg (team 5th out of 36)
Engadin Ski Marathon, St Moritz, Switzerland - 7.3.6 to 12.3.6
Toughest Engadin ever! Well, at least in my memory. -10 plus a stiff headwind made this quite a challenge. The winners were 30 minutes slower than normal. This was a disappointing race for me as I ran out of energy - should have brought my Haribos - despite a good start. Lessons learnt though, and I'll be back next year.
1130/10000 (2nd fastest Brit, out of 67 finishers)