Profile: Alan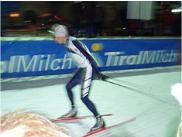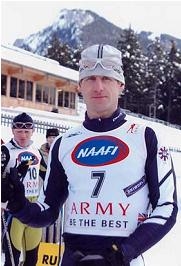 Press cutting - World Champs 2007
Name: Alan Eason
Alan leads some of our advanced courses in the Autumn and Spring, and runs our cross-country ski trips on snow.
Qualifications:
2010 Snowsport England Level 4 Tutor Award
2005 Snowsport England Roller Ski Coach Award.
2006 BASI (British Association Of Ski Instructors) Instructor Course, Norway
2001 British Ski Federation Level 3 Coaching Award.
2001 English Ski Council Nordic Instructor Award.
Racing experience:
2007-Present Regualar ski marathon racer across Europe and Australia
2006 15km British National Championship, Germany 1 st
10km Double Pursuit British National Championship, Germany 3 rd
British National Biathlon Championships, Germany 10 th overall.
4 x 10km Relay British National Championships, Germany 5 th
2006 42km Dolomitenlauf Classic Race Austria, 17 th
2005 Nordic World Championships, Oberstdorf, Germany
2003-2006 Full time member of the Great Britain national cross-country ski team. 2003 BSSF 1 st 30km
2002 BSSF 1 st 10km
2000 BSSF 1 st 30km (British Ski & Snow Board Federation.)

Coaching experience:
2010-Present Proprietor of Totally Nordic, Ski Instruction in Austria and Switzerland
2005-Present Director Ski School, Lake Mountain, Victoria
2005-2006 Manager / Ski Technician, Great Britain Cross Country Ski Team.

Other interests: Mountain biking, travel
What does he do: Alan will be running intermediate and advanced rollerski courses, in autumn 2006 (October-November) and whenever he is in the UK. Most of Alan's year is spent either training and racing in Europe, or teaching cross-country skiing in Australia.