Instruction
Special group bookings
TESTIMONIALS | PRICES | CHECKLIST
Get your team to join the rollerski fun! For larger groups (6+), our instructors provide special lessons or courses, designed to offer an enjoyable and alternative challenge.
Taking place during weekdays or at weekends, these are aimed at office / corporate groups, hen parties sports clubs and schools, and are adapted to your group's particular needs. Our Snowsport England qualified instructors have plenty of experience teaching beginners, and we provide all the equipment you need.
We offer 1-day courses, 90 minute lessons and structured 4-week courses. We can accommodate a maximum of 20 participants on a 8:1 instructor ratio.
Reasonable fitness is recommended - good balance from any kind of balance related sport will help (ice skating, skiing, rollerblading, windsurfing, etc). An interest in cross-country skiing, biathlon or doing a ski marathon will make it all the more relevant!
We have taught office groups, private parties and military groups. Previous groups include 3M, GB Canoe Squad, Eton College Rowing Courses, Air Cadets, Arctic Foxes arctic exploration team, The Honourable Artillery Company and Tiffin School.
We bring our equipment to various inspiring venues including Hyde Park in Central London, and Dorney Lake near Windsor (J7 of the M4).
For Army ski team groups, see our Army page
Prices - based on 6+ people
For a 2-hour session (90 minutes of instruction, plus approx 30 minutes for putting equipment on and off) we charge £20 per person (£14 for 12-18 yr olds). This includes all equipment, and your instructor. You can now pay online for groups of 6+.
For a 1-day course we charge £60 per person, including equipment..
If you use our Dorney Lake venue, there is an additional venue charge of £6 per person for a 2-hour session, and £12 for a 1-day course.
Rollerskiing helps you train for cross-country skiing. You may enjoy the following YouTube cross-country ski videos - Tour de Ski, Petter Northug.
Checklist
We provide all equipment, but we ask you to -
fill out a Safety Form before you come;
bring a pair of gloves, and wear fairly light jogging / sports clothes;
decide on the classic or skating rollerski style;
confirm venue and timings - see our venue listing to see where suits;
pay us - by cheque payable to 'Rollerski Instruction'.
Capacity
Maximum capacity -
- 75 pairs of boots
- 75 pairs of poles
- 30 pairs of rollerskis
- Padding and helmets for 30 rollerskiers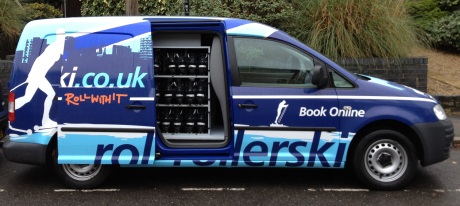 Contact us
Email us info@rollerski.co.uk.Telephone us on 020 3026 5195 or 07968 286129. Our address is 20 Brookfield, London N6 6AS