Rollerskiers in the press (again...)
New Year 2007 - some of our skiers were mistaken for Norwegians by reporters on the local newspaper, Ringsaker Blad. Laura Long, Helen Wood and Luke Klimacki show off their skills.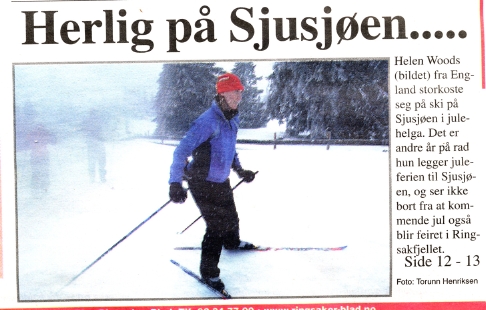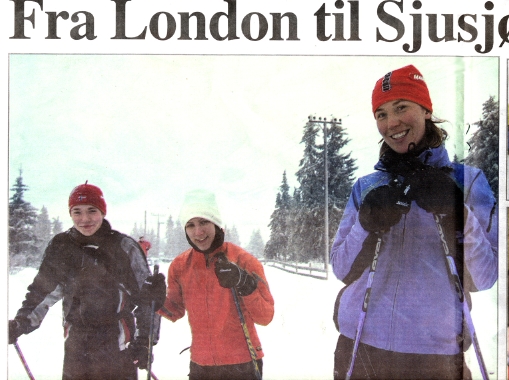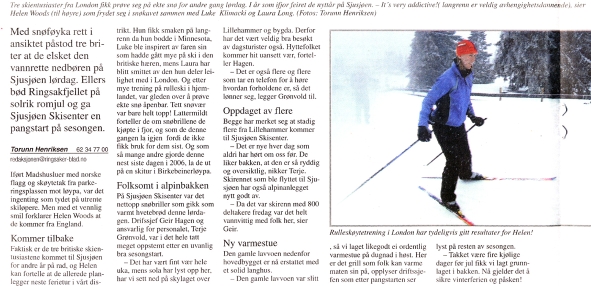 From London to Sjusjoen to go skiing
Caption to picture of Helen:
Helen Wood from London enjoyed herself immensely skiing at Sjusjoen over the Christmas weekend. It is the second year in a row that she has come to Sjusjoen on holiday, and it may well be that next Christmas will also be spent on holiday in the Ringsak mountains.
Caption for picture of 3:
Three ski enthusiasts from London experienced real snow for only the second time on Saturday. This year as well as last they saw the new year in at Sjusjoen. "Cross country is very addictive" said Helen Wood (right) who sheltered in a snow cave together with LK and LL.
Article:
With a snow blizzard right in their eyes three Brits maintained that they loved Sjosjoen on Saturday. Otherwise Ringsaksmountain had a sun filled holiday period which gave Sjosjuen ski centre a flying start to the season.
Wearing hats with Norwegian flags and taking skating steps from the parking lot near the ski run, there was nothing that suggested untrained skiers. But with a friendly smile, Helen Wood explained that they came from London.
Actually the three British ski enthusiasts came to S for the second year in a row, and Helen tells us that they are already planning their next trip to our region. She got a taste for cross country when she was living in Minnesota. Luke was inspired by his father who had skied a lot in the British forces, whist Laura became interested through her flatmate in London. And after much training on rollerskiis in their home town, the joy at trying real snow was clear. Proper snow weather was fantastic! Laughing they tell us about the snow sunglasses they bought last year, and which they left behind this time because they got no use out of them last year. And like many others on the last but one day of 2006, they went on a ski trip on the Birkebein run.
At S. Ski centre it was actually snow sunglasses that sold like hot cakes this Saturday, said manager GH and HR manager TG. They were overall very encouraged after an unusually fine start to the season. "The weather has been great the whole week. While the sun has been shining up here, we have looked down on a layer of cloud over Lillehammer and the town. We have therefore been visited by many day trippers too. People staying in cabins come here whatever the weather" Hagen says. "There are also more and more people who phone to hear what the conditions are like, so it is worth it", Gronvold adds.
Both have noticed that more and more come to S ski centre from Lillehammer. "There are new people each day who have never heard of us before. They like the slopes, that it is so tidy and has great views" agrees T. The ski run that moved to S. has also benefited from the new alpine department. " When there was a ski run with more than 800 participants on Friday the place was crawling with people", said Geir.
The old tee-pee below the main building has now been replaced with a solid Ing house. "The tee-pee was run down, so we made a good warm room in the autumn. There is a grill there that people can heat up their food on, explains the manager, who after the great start to the season is optimistic about the rest of the season. "Thanks be for four cold days before Christmas: we laid the base layer for the runs then. Now we just need to ensure that the Winter holiday and the Easter holiday go just as well!"