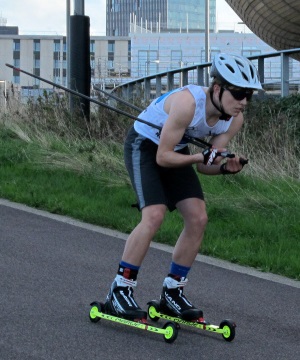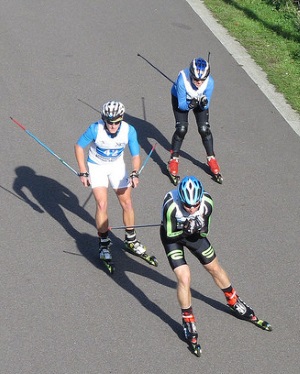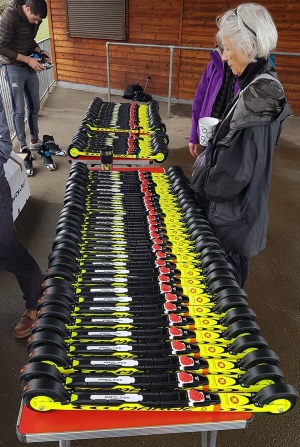 Roller ski racing in the UK
In the early 2000's, roller ski racing as a sport was beginning to diverge from cross-country skiing. FIS rules determined that racing roller skis were a minimum length, but otherwise the rules were not very restrictive. This led to the development of super fast wheels and bearings, and an 'arms race' occurred, with ever faster speeds. Unfortunately roller skiing was becoming less like cross-country skiing, with fewer top level cross-country skiers taking part in roller ski races.
About 10 years ago, however, a movement began to have more races on 'matched' fleets of roller skis, provided by the race organisers. These roller skis tended to be the type athletes regularly trained on, with lower speeds and designs best developed to replicate the feeling of skiing on snow, rather than ultimate speed. These races have become increasingly popular in Europe, especially Scandinavia where Norway's Blinkfestival attracts some of the world's best cross-country skiers and biathletes; and Sweden's Alliansloppet is the biggest roller ski 'marathon', attracting thousands of racers. FIS World Cup roller ski races now take place on either matched roller ski fleets, or the FIS approved fast racing roller skis, but the former attract the greater number of elite cross-country skiers.
These developments have now reached the UK, and in Autumn 2018 the committee of the London Region Nordic Ski Club (the UK's largest roller ski race organiser) introduced their first skating roller ski races on matched roller skis, on a brand new fleet of 60 Marwe 610A roller skis. Previously they had run a couple of races on Swenor Alutech's, supplied by Swenor and sold off after the races. These races had proven to be among the most successful races ever held in London. Getting the skating, or 'free technique', races onto matched skis was the obvious next step in advancing the sport, and followed Huntly's acquisition of its own fleet of the same ski in 2017.
In 2018 three races (in London) were held on the Marwe 610A's -
The London 15k Rollerski Time Trial in September at Hillingdon Cycle Centre;
The London 42k Rollerski Marathon in October, also at Hillingdon;
The London 1-Hour Rollerski Race at the Olympic Park in November.
These were all great races, hotly contested and well attended.
The big advantages of having the races on the matched rollerskis are -
Fairer Competition - everyone is on the same ski, issued by the race organisers, and so results are directly comparable;
More 'ski like' - the slower roller skis feel a lot more like cross-country skiing on snow, and are designed to be a similar speed to 'average' snow conditions;
Better perception of safety - often the very fast speeds of racing roller skis is off putting to novice racers and those of a nervous disposition. The introduction of the slower matched skis has slowed down the speeds of the top skiers, making the racing slower, but still just as competitive at the top end;
Reduced Expense - a nominal sum is charged for hiring the skis, but there is no need to buy a separate set of racing rollerskis. The racing roller skis are expensive mostly because the wheels are softer and wear down very quickly. It is not uncommon to have to buy a new set of racing wheels every couple of seasons, and in fact the top racers will have different wheels for different weather conditions and temperatures. Less disintegrating plastic from wheels is also better for the environment.
There's a pretty good correlation between results in roller ski races and on snow. For example, Holly Rees-Lay who won several roller ski races this year and last, was 3rd in the 2019 British Champs 7.5k Free Technique Race and was 1st in the Biathlon 12.5k Individual Race. Junior roller ski racers Ed Rodge, Tristan Marshall and Titus Clark also saw roller ski performances translate well to snow. (The Army used to dominate British roller ski and cross-country ski racing; sadly they no longer take part in cross-country skiing and biathlon as 'performance' sports with year round training. They no longer put athletes forward for cross-country skiing at the international level, despite having some talented personnel).
You can compare the results here of some of the young English skiers who are members of our Hyde Park club / Team Dorney -
Holly on roller skis: London 15k (on fast skis, before matched skis)
Holly on snow: British Champs Ruhpolding, 7.5k Free Technique | British Champs Ruhpolding, Biathlon Individual 12.5k
Ed, Tristan, Titus: London 10.5k, 4.5k
Ed, Tristan, Titus: British Champs Ruhpolding, 7,5k Junior Men
You can expect to see a lot more races on matched skis in 2019. The plan, we believe, of the LRNSC is to have a few races each year on the fast roller skis, to keep mixing it up a bit, but with more races taking place on the matched skis. The (non-hillclimb) races at the Huntly Nordic Ski Club in Scotland are all now on the Marwe 610A roller skis, and the Wessex Races at Castle Combe circuit in October were on the Marwes as well. It is a development which will hopefully see more people take up the great sport roller ski racing, and by extension cross-country skiing and biathlon in the Winter.
Join the races this Spring! First race is SUNDAY 12TH MAY, Hillingdon Cycle Circuit, West London.