DVD - Training with Purpose -
Technique Progressions & Training, Dryland & Rollerskis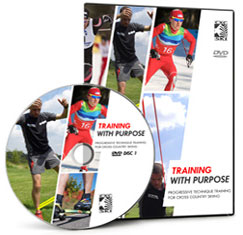 Get the most out of your training by using the drills, progressions, technique, and equipment that is proven to achieve the best results! This DVD gives you an inside look at the kind of technique, drills, and tools athletes are using to achieve success.
Cross Country technique drills and progressions presented in this DVD may be incorporated into your training in warm-up and cool-down sessions, done on an "active rest" day or performed before, during or after specific and over distance workouts.
These drills fit perfectly with the way we teach rollerskiing, and we incorporate many of these ideas into our courses and regular club training. If you can't make it to see us, this is the next best thing -
DVD 1:
Dryland training: Classic Technique - 29 drills & progressions
Dryalnd training: Skate Technique - 22 drills & progressions
Rollerski training: Classic Technique - 22 drills & progressions
Rollerski training: Skate Technique - 13 drills & progressions
DVD 2:
V From Standing Position Drill, Coach Skate Drill, Figure-Eight No Poles Drill, Backwards Skating Drill, V1 One-Pole Drill, V1 Switching Sides, V1 With Classic Poles, V4, V2 Hop Skate
Here's are some audio clips from the DVD: balance, stopping, etc. See also here for the video as well -
The DVD is produced by Central Cross-Country Skiing, an American organisation which develops both performance and recreational cross-country skiers and which is involved with a large number of 'Masters' skiers.
This is a very good DVD to help break down the techniques into its components. It's the next best thing to having a rollerski lesson, but best used in parallel with proper coaching.
Different sections are easy to locate within the DVD.
It's recommended for skiers from beginners to elite level.
The approach of the instructors in the DVD is very similar to our own approach in London - from the teaching to the rollerski equipment used.
Order here -
DVD - Training with Purpose: Technique Progressions & Training DVD - £29.95
Training with Purpose: On Snow

Classic & Skate Skiing, On Snow. DVD includes -

classic technique drills
skate technique drills
drill videos to load to your iPod and take on the go

£29.95 - order here -