Payment
Swenor Alutech rollerskis - Special Offer
We have a great deal on Swenor Alutech rollerskis, which have been used only once (in the Swenor sponsored London 1-Hour Race). These are excellent strong and stable rollerskis, popular with beginners and more experiened skiers alike.
They are available with Prolink Pro Classic and Prolink Pro Jr bindings (compatible with Prolink and NNN boots) and Propulse RC2 Carbon bindings (compatible with SNS Pilot boots). They are supplied with bindings fitted and with mudguards unfitted, and have #2 Medium speed wheels.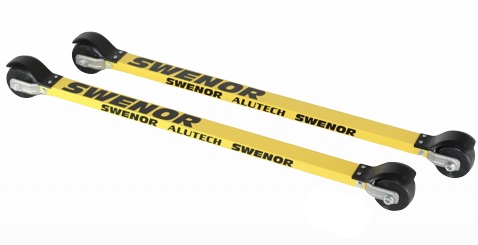 Save 30% off the regular price
Our regular price is £244 / £256 with regular / carbon bindings specified.
Rollerskis + Bindings, including delivery, £174 -
Delivery in the UK and worldwide. [If ordering 2+ pairs, or with boots and poles, see below, £164]
Rollerskis + Bindings, special price, £164 -
Special price of £164 if postage is not required (ie you collect from a training session), OR if you order 2+ pairs of rollerskis (can be combined with any of the rolleskis we sell here) OR if you buy the rollerskis plus a pair of boots (see here).
This is an excellent offer; for comparison 4x replacement Swenor Alutech / Fibreglass wheels cost £140 (see spare parts).
We will check all the rollerskis before sending to make sure that they are in full working order and there is no damage to the rollerski or the bindings fitted as a result of use on the race day. Prices include VAT @ 20% for UK and other EU sales.
.
Please get in touch if you have any queries, iain@rolleski.co.uk or call 0208 348 2540 or 07968 286129.

See also -
Ex rental boots, poles and roller skis
Pictures from the Swenor London 1-Hour Race
Race Results