Dagens Næringsliv - roller skiing in Hyde Park, the Norwegian view
| | |
| --- | --- |
| Norway's finanial newspaper Dagens Næringsliv came to find out what we were doing developing roller skiing in the UK. They met our instructor Mantas and followed one of our Hyde Park groups; and caught up with Jon Gausen, a Norwegian living in London. | |
Skiglede i London
White winter is history in London. It does not prevent urban exercisers participating in winter long runs. They train on roller skis in the world metropolis parks - to go skiing competition on the continent.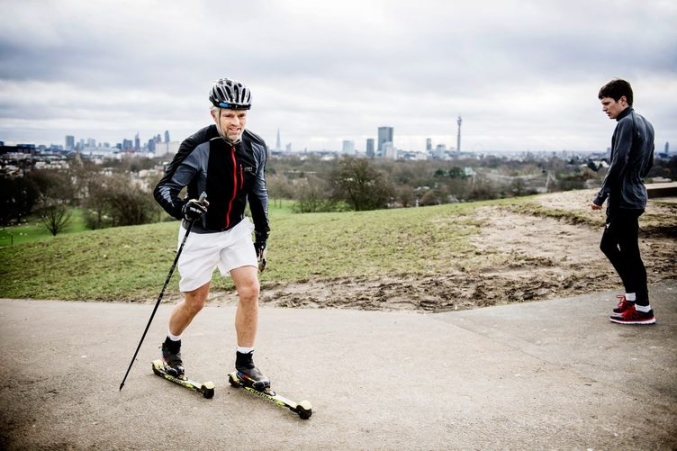 Much thanks Duchess Kate Middletons skister Pippa and her participation and not least impressive achievement (7 hours and 14 minutes) in Vasaloppet in 2012. But also emigrated Norwegians should have a share of the credit for recruitment to cross-country skiing.
Waste drive
- It was my Norwegian colleague, Kjetil Grønskag that got me on roller tells Jon Gausen.
As chairman of the Norwegian property company Northbridge as has Nordmøre no been living in London since 1990. He established with family in Belsize Park, northwest of London, where it claimed he is optimum roller conditions.
- I go on roller straight from my house to Primrose Hill and Regents Park.
Gausen describes herself as a treningsopportunist, any coach in connection with the journey to and from work.
He varies between jogging to Regents Park, to go on roller through the park and then jog on to office in Mayfair or bring roller skis in the bag and corresponding route home.
- My father always said to drive is a waste of time, says Gausen, whose father otherwise have taken the mark in Birken 32 times.
Going skirenn
He's not so bad yourself either, with several good performances in Birken, Vasaloppet and Marcialonga.
This year it Årefjellsloppet the end of March which is the target, until then there will be minimal fitness on snow.

- If it comes snow, we ski in Hampstead Heath, which is quite high up. Otherwise I'm home in Surnadal before Christmas to exchange Christmas gifts, it happens that I get gone a little skiing.
Miss lysløypa
- Do you feel that you get adequate preparation with so little training on snow?
- Roller is a very effective form of exercise, it is more intense and challenging for balance than snow.Moreover release time playing for lubrication and driving to floodlit says Gausen who admits that he prefers snow.
- If there is one thing I miss in London, so it's taking an evening session illuminated track.
Amundsen-holding
This Saturday in January is Hyde Park as usual characterized by lusty Londoners in the form of boot camp groups and runners.
But there are roller group from Rollerski UK who steals the transient attention. The level and aspirations of the group ranges widely, even in this advanced group. Some just want a new and effective form of exercise, others will train to participate in long-distance race
- Norwegians have Amundsen attitude, they should come first. While Englishmen running more implementation philosophy. Many here have registered both Vasaloppet and Marcialonga without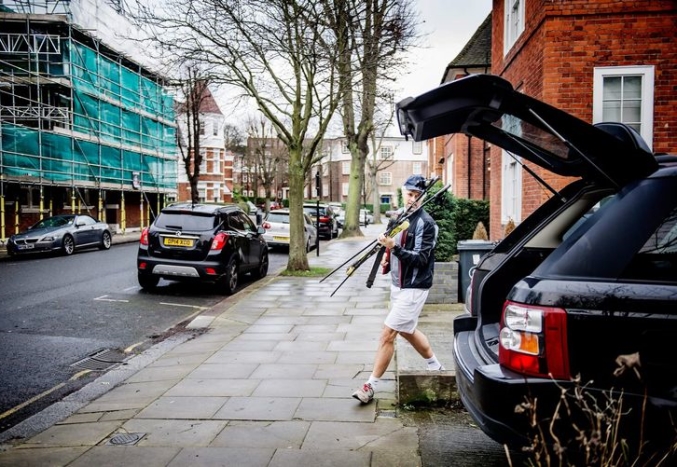 There are good conditions to go on roller from the house to Jon Gausen in Belsize Park in Northwest London, but this stormy Saturday morning he takes Range Rover down to Hyde Park. Photo: Thomas Haugersveen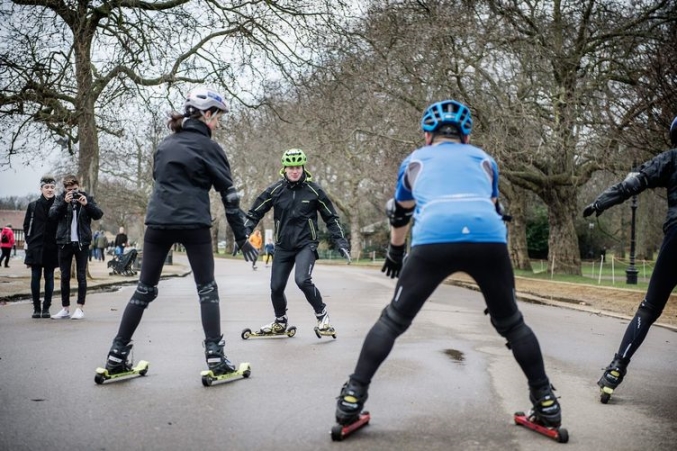 Out with the legs and stretch the hamstrings commands Mantas Strolia, who heads the intermediate roller group through brake training. Japanese tourists documenting the phenomenon. Photo: Thomas Haugersveen
having gone on snow before, says Gausen who sometimes helps the regular Saturday sessions.
A relief to walk on snow
20 years ago was Harvey Metcalf (68) engaged in a nine-month job in Stockholm. When he was introduced to cross country and Vasaloppet.
- I've gone short-Vasa'n several times. It's easier to walk on snow than to go roller, roller skiing focuses much more on balance, it is a relief to get on their skis and go ski trails says Metcalf which this year plans to go short course in Vasaloppet.
- Good transfer value
Oslo: With good roller equipment and effective dryland training can physically fine prepare long races, says manager for endurance by Olympiatoppen Espen Tønnessen.
- The transfer value between roller and cross country is very good. Especially in making, a little less in diagonal, but you have the modern roller skis that slips if you do not use proper technique, the transfer value good. For exerciser is great, for the more experienced is the transfer value probably a little less, say Tønnessen.
When he wrote "The Norwegian cross-country book» charted training program to 17 world champions.
There he found that they let down 200-250 hours of dryland training in the form of running in marsh and elghufs year.
- Running in the marsh and hufsing with poles uphill was the most common non-specific dance form.Training is important to develop a diagonal and specific aerobic capacity, because it activates a large proportion of the body musculature, and the cross country specific muscles in the legs and torso are well developed, explains Tønnessen, who believes it is important to achieve long trips when you first come on snow.
- Just to get gone much skiing with proper technical training in the Birken speed they should have is good. A good rule of thumb to switch between hard and quiet sessions, he said.
- What races do you recommend to those who are most dryland?
-Marcialonga Or Vasaloppet where you can stake is nice for those who have passed on roller.Birken's harder to be prepared with only dryland training, but it is entirely possible, says Tønnesen.
Rowing & rollerskiing article
Rollerski courses