ROLLERSKI CHALLENGE:
Wessex rollerski races, Sunday 2nd September 2012
Last year the Wessex Biathlon & Nordic Ski Club ran one of the best rollerski races of the year - at Castle Combe race circuit. This year they will again have individual and team races - for all skiers - with novice, junior, sendior and veteran categories.
You should sign to both individual and team relay races, if you like - I'll make sure everyone gets in a suitable team. Sign up below and put the date in your diary. We had a great team last year, and came away with several prizes including first man and first men's relay team.
Date:
Sunday 2nd September 2012
Venue:
Castle Combe race track, Wiltshire
Races:

Individual Mens 9km sprint - 1st prize £100; 2nd prize £50
Individual Ladies 6km sprint - 1st prize £100; 2nd prize £50
Juniors 6km sprint
Individual Youth and Novices 3km sprint
Team Mens 4 x 3km sprint
Team Ladies & Juniors 3 x 3km sprint

Contact:
Bob Anderson, Race Director, rma@biathlonsport.com
Race information
Sign up - please enter ASAP, by Thursday 30th August
If you would like to join one of our teams for the event, please book online below. Race entry is £10 for individual races and £7.50 for team races. We encourage everyone to do the individual races, and relay (we'll allocate you to a team).
All proceeds go to the Wessex Biathlon & Cross-Country Ski Club.
BOOKING: JOIN OUR TEAM FOR THE WESSEX SPRINTS -
It's great practice before heading onto snow - it is easy to push yourself harder when there is a bit of a competitve element! The timing is accurate and the prizes are good. No racing experience is required - novices are welcome and the track is smooth and flat with no big hills. There is a cafe on site, and it is a good day out.
Our results from 2010 - Mens relay Part 1 Part 2 & Ladies relay Part 1 Part 2; 9k 6k 3k
Our results from 2009 - Mens relay Ladies relay 9k 6k 3k
Our team from last year - more pictures -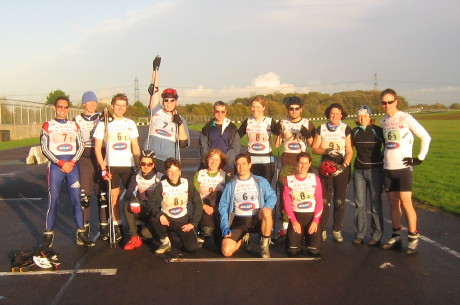 Iain Ballentine, iain@rollerski.co.uk
2010 report and results
Wessex Biathlon & Nordic Ski Club