Features - 16/5/6
Why cross country skiing? A personal view
By Iain Ballentine
For many rollerskiers it is the passion of cross-country skiing which inspires them to get out and practice. But what's cross-country skiing all about?
First of all, forget the idea that XC skiing is just walking on snow. Too often the media portrays it as a 'gentle' way to ski, skiing for alpine skiers who've been put out to grass. It's not. The best comparison is perhaps to cross-country mountain biking – where you work hard to get up a steep trail, then enjoy the exhilaration of a fast descent, often with twists and turns, and through forests and incredible scenery.
Of course there are many levels at which you can enjoy cross-country skiing, and it appeals greatly to those who enjoy walking and who take it at that pace. My first experience of skiing was as a sports mad teenager. At school my main sport was rowing and sculling, and almost every day we did training of some description – rowing, ergos, weights or circuit training. Unwittingly, much the same type of training as that of cross-country skiers. Seeing my uncle out rollerskiing (he had been in the army and had invested in rollerskis to keep fit) I thought first, 'Uncle Andy is mad', and secondly, 'let's give this a go'. And so I did, and so began a love of cross-country skiing.
What I think appealed was that I could go out for a long workout along the towpath near my school's boathouse. I could ski for well over an hour, exercise my entire body and feel completely exhausted at the end, but with no adverse impact on my joints. It didn't use exactly the same muscles as rowing, but the fact that it exercised some 'under used' muscles was no bad thing. I rollerskied, on and off, for a year or so, then made plans to go on snow. In the build up to departure I did a bit more roller skiing, and a bit of 'ski ganging' – running with poles.
When I got onto snow for the first time I was transported to a different world. As a 14 year old who had never skied before, and never been to the Alps in winter, this was a new experience. Andy was leading a Waymark group and I found myself after day one being faster than everyone in the group (except Andy). We skied for miles, on terrific tracks around Seefeld in Austria. Every day I went to bed aching from the new muscles I was using – although rowing meant I had excellent fitness, rollerskiing only prepares you so much. But every day we would ski for miles and it was great.
Not only did I return home fitter, but actually noticeably taller! A strange coincidence perhaps, but what mattered was that I came back with a desire to do more.
It wasn't until the age of 21, that I really came back to skiing. Andy had given me a set of rollerskis for my 21st birthday present, and having left university and having had my fill of rowing, I came to live in London. Having no desire to row on the Thames (which doesn't compare well to the rivers and lakes I had rowed on in Ireland, or to the Cam in Cambridge) I took up rollerskiing to keep fit.
Gradually I got back into skiing. First of all I discovered Richmond Park, then I discovered the London Region Nordic Ski Club and met Peter Moysey who was able to teach me how to ski faster on snow. I trained with Alan Eason (current British cross-country ski champion) in Ramsau – who I'd met through the London club – and with my uncle and a random army team (the Queen's Royal Hussars) in Norway. I found out how easy it was to race in the British Championships in Ruhpolding (and finish fairly well), and I learnt a few waxing tips along the way. In fact you can learn a lot in cross-country skiing, because the people who do it tend to be very giving with their time - and it's not really that difficult a sport if you're fit to begin with.
It wasn't until 2003 that I did my first ski marathon – the Savoyarde in La Feclaz, France. If my interest in skiing had been waning at all, this really got me excited about it again. The Savoyarde was a 42k race – 2 laps of 21k in beautiful, undulating alpine scenery. I was fit at the time, having done a lot of rollerskiing. The race had about 800 entrants – a medium sized field for a ski marathon. At the start I was overtaking everybody - really going fast and feeling strong. However after 21k I was starting to feel a bit hungry. It got worse – I stopped at every feed station, but it didn't make any difference. I was losing energy, strength and power, and everyone who I had overtaken started coming past me. Lesson learnt. Not a great time, but I knew I could do better. The excitement of this type of racing had got hold of me. Unlike a normal marathon, ski marathons are low impact. Although you are using all the energy you have, and most of your body's muscles, your joints do not take much of a pounding. In fact, after the race we had some food and were out skiing again that very afternoon.
Again, my interest in skiing was developing. I went on to have a go at biathlon, doing my first biathlon race in 2004. In the 2005 season I took a bit of a break due to the pressures of work, but back in 2006 when I had the opportunity to coach a team (Exeter Uni OTC) and take part in even more races.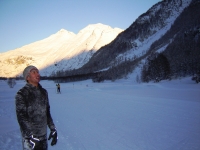 Through rollerskiing, I now find myself bringing even more people into the amazing world of cross-country skiing. Since I started recording numbers in October 2005, I have taught over 150 people to rollerski – many have gone on to have their first cross-country ski holiday, take part in their first ski marathon, biathlon race or winter triathlon race. Most people who try cross-country skiing find out that is not what they expect, or that it offers more than they think.
I believe it offers an incomparable experience, and can capture the imagination whatever your age, level of fitness or competitive inclinations. As we grow the numbers of people rollerskiing in the UK, so we open up a new world of opportunity to anyone coming into the sport. It gives me a great deal of pleasure seeing people progress and discover new challenges.
Making rollerskiing accessible 'to the masses' is one of the aims. In the next 6 months I hope to be bring more people into the sport, but - just as importantly - develop more fully the rollerskiers I have been teaching over the past year. I would also like to bring rollerskiing to more schools and young people. The team and I will continue to work with individuals, cross-country ski holiday companies and military teams to get better prepared skiers onto snow, to enable all to get a better Nordic experience.
Time will tell whether or not we succeed, but a good start has been made and attitudes are changing. Cross-country skiing is not just walking on snow, and I think we're beginning to get this across!
Our cross-country ski holidays