Rollerski Redbridge Race - Sunday 24th April
2022 GB SERIES RACE #1
Thanks to everyone who took part and supported the race!
Here are -
Race Results - FINAL
Pictures from the race, thanks to Andrew Kenyon
The British Rollerski Series returns for 2022 after a 2 year break, and we are running the first race of the year.
Details are -
Venue: Redbridge Cycle Circuit
Date: Sunday 24th April
Time: Start Time 12.30
Format: 12k Free Technique, 6k for Youths and Novices, Mass Start
Rollerskis: Marwe 610A roller skis with US6 wheels (or slower). Marwe 620XC wheels with US6 wheels (or slower) are also permitted.
Sit Skiers are welcome.
Cost: £12 for Adults, £6 for Juniors. Racers may also use the track for training before and after the race. We have the venue booked from 10-16.00.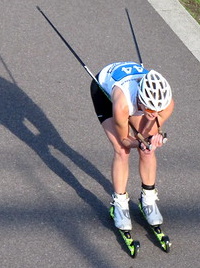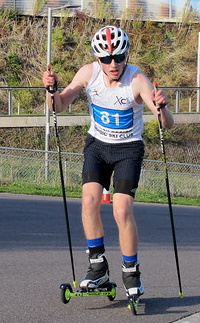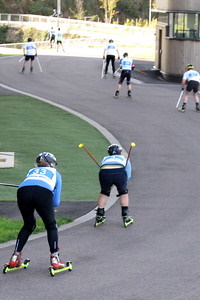 Race Format
The race will be 12k for Adults and older Juniors (16+), and 6k for Novice and Youths. The format for the 12k race will be 6x laps of the lower circuit >> ski up the hill >> 6x laps of the upper circuit. For the shorter 6k race it will be 3x laps;
Mass start - 12k race starts at 12.30, 6k race at 12.50;
There will be no need to ski down the very steep hill, but there will be a shorter downhill section on the upper circuit (see aerial picture below);
The race will be on Marwe 610A roller skis with US6 wheels (or slower) which must be provided by each racer (either their own skis or borrowed from their clubs or a friend, etc). We will also permit Marwe 620XC roller skis with US6 or slower wheels. And we will allow Marwe 590A / 590XC roller skis for novices, with 6S6 wheels or slower. Specifying these roller skis will allow for fairer racing.
Sit skiers are welcome and there are no restrictions on the sit ski rig and wheels, although it would be good if all sit skiers could race with similar speed kit if possible.
Timings
Track opens at 10.00;
Bib collection & racer declaration from 11.30;
Race briefing at 12.15;
12k race starts at 12.30;
6k race starts at 12:50;
Prizegiving at 14.00;
Track shuts at 16.00.
Anyone racing can use the track at any time between 10-16.00.
Prizes
There will be decent prizes.
Venue
Redbridge Cycle Circuit is situated on the boundary of Essex and London, near the bottom of the M11. The nearest Tube is the Fairlop on the Central Line, a good 30 minute walk from the circuit. Postcode is IG6 3HP;
Their website is - https://visionrcl.org.uk/centre/redbridge-cycling-centre/
Regulations
Buy Marwe 610A roller skis
We sell these roller skis here - http://rollerski.co.uk/buyrollerskis.html#skate But if you do not already own a pair, you might be able to borrow one from your club - they are among the most popular roller skis in the country.
More information
For more information, please contact iain@rollerski.co.uk or call 07968 286129 or 020 3026 5195.
Also happening at Redbridge the same day -
1-day rollerski course, beginners and intermediates
Biathlon course (roller skiing and shooting)
And -
GB Races 2022 Provisional Calendar
Pictures from previous London rollerski race, thanks to LRNSC